Tuscaloosa Paddleboards
If you're in the Tuscaloosa area and are looking for some fun in the sun, give Tuscaloosa Paddleboards a call! We provide affordable, high-quality paddleboard rentals, to help you enjoy your time spent out on the water. Come visit us today or call for delivery—we set up at the docks by Riverwalk Condominiums and at Lake Nicol Park.
Fun and Affordable Paddleboard Rentals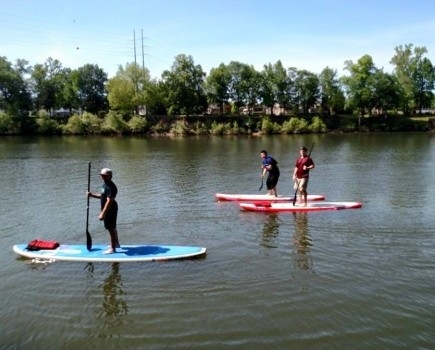 Looking for a way to enjoy a beautiful summer day that's affordable and fun, without being over-strenuous? Consider all the fun you can have with paddleboard rentals in Tuscaloosa, AL! Tuscaloosa Paddleboards provides customers with the highest quality paddleboards, so you can get on board and push out onto the water for a day of relaxation and enjoyment. With rates for individuals, groups and parties, we mix the perfect level of fun and affordability together for you. Best of all, our paddleboards are great for people of all ages and give you an opportunity to participate in an activity you may never have engaged in before.
Of all the things to do on the lake, paddleboards in Tuscaloosa, AL are the simplest and easiest to enjoy! All you have to do is find us at one of our spots on Lake Nicol Park or at the Riverwalk Condominiums, pay for a rental and you're all set to go. Or feel free to call us for delivery and will bring the paddleboard to you! We encourage you to call ahead to reserve a board for the next time you and your friends want to spend some time on the water. Visit us today to learn more about our boards and our rates and terms. We look forward to seeing you!
Our paddleboards are made of the highest quality materials and well-maintained between uses.
We offer paddleboard delivery to your location if booked in advance ($10 fee)! We also offer daily deliveries to the Riverwalk behind Another Broken Egg Cafe.
We have both individual and group rates available, as well as hourly and party rates.
We set up at Lake Nicol Park and the Riverwalk Condominiums during the summer months. Check out our Facebook page to see up-to-date information about our location.
We accept walk-up rentals and call-ahead reservations for boards.
Book Your Paddleboard Today
Ready for a lazy day downriver? Contact us today to reserve your paddleboard! We're ready to provide you with everything you need to paddle the day away on Lake Nicol Park or at the Riverwalk Condominiums.
Areas Served:
Dock at Riverwalk Condominiums
Lake Nicol Park
Other local areas by request