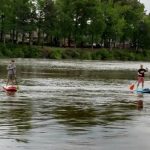 What better way is there to enjoy a hot summer's day than out on a paddleboard, drifting lazily downriver? If you or a group of friends is looking for the perfect way to spend an afternoon, Tuscaloosa Paddleboards is here to provide you with paddleboards for rent in Tuscaloosa, AL!
We offer customers only high quality paddleboards—we exclusively supply YOLO boards headquartered in Destin, FL. Our staff sets up in prime paddleboard locations and can even deliver boards to you for a small fee when you call and reserve them in advance. Either way, we make it easy to get out on a board and onto the water. We're your premier destination to rent paddleboards in Tuscaloosa, AL.
Rental rates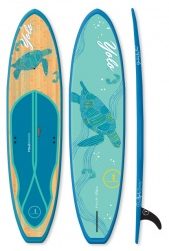 Individual board: $20/hour
Group rate: $15/hour (minimum 4 boards)
Party rate: $100/hour (8+ boards included)
Daily rate: $60/day
$10/each additional hour
Boards may be able to be delivered to a location during non-regular hours for a $10 fee, in addition to normal rental rates.
Rental locations
During the months of April through September, we set up at Lake Nicol Park on Saturday and Sunday. Saturday hours are 12-6; Sunday hours are 1-6. These hours are weather permitting and subject to change. Walkup rentals are usually available, but please call ahead to make sure we have a board at the time you want.
Weekday rentals are available during the day, but we insist you call ahead to reserve boards.
To reserve a board with us today, please call 205-394-4921. We'll gladly work with you to ensure you're able to get a board at a price and time that's ideal for you!